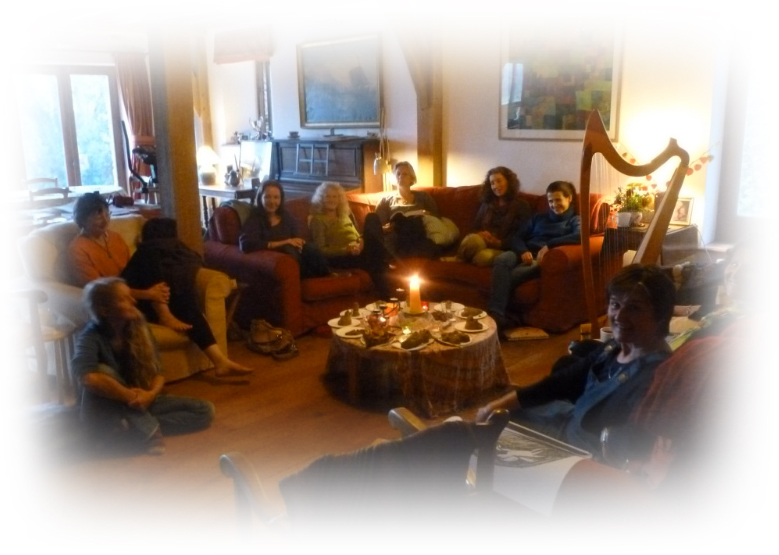 Wood Sisters gather around each of eight seasonal festivals… as set out on the wheel of the year below. We start each yearly cycle of gatherings at Samhain… In the cooler months we meet inside by the fireside and in the summer we gather outside under the wonderful red canvas of the Wood Sisters Red Tent. Mostly these are one day gatherings but at least once a year there is the chance to spend a weekend together. Wood Sisters also meet weekly around the year in the Celtic Circle, for a morning together of seasonal reflection, sharing, study, meditation and quiet time for journalling, art and sacred time in nature. We have occasional larger events that are open to women, men and young people such as storytelling evenings and our Wood Sisters Winter Festival. Brief introductions to our Gatherings, Celtic Circle, Red Tent and Winter Festival are below. Please follow the 'more details' links for further information.
This year, with our 2014/15 cycle, we are celebrating five wonderful years of rich, sacred celebration. We will then be taking a sabbatical, so after our Autumn Equinox Gathering on September 19th, there will be no further Day Gatherings or Slow Cook Course in 2015/16.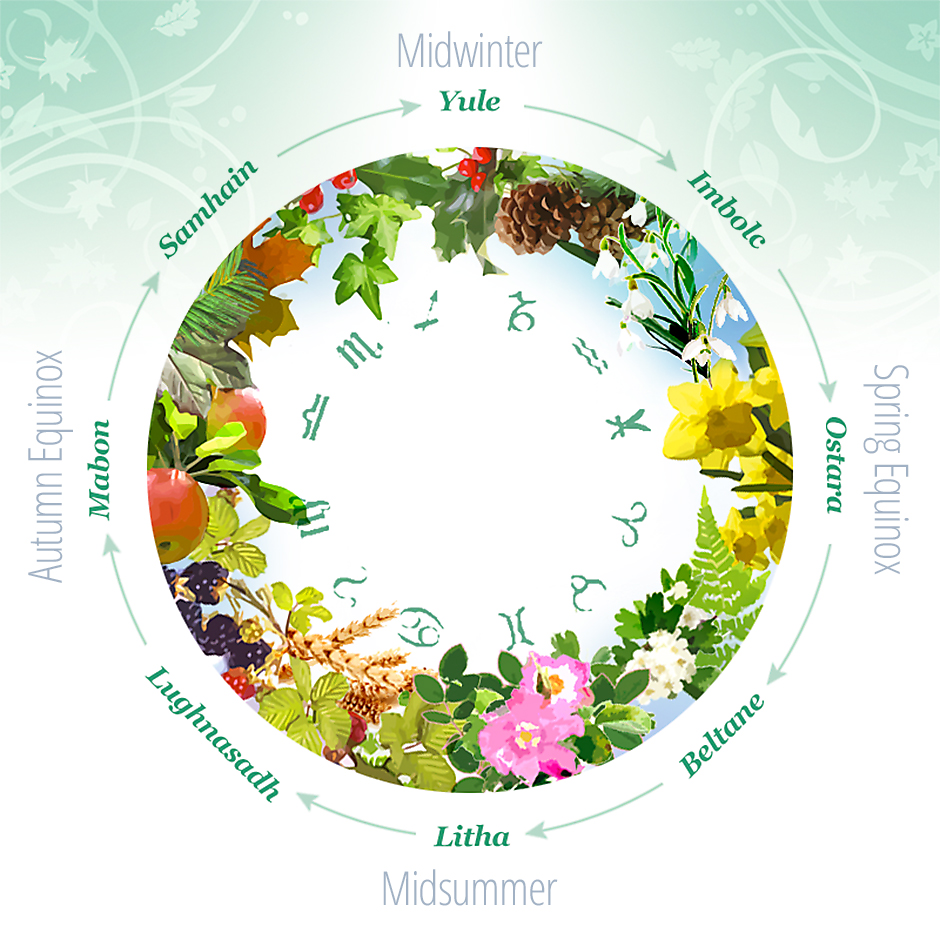 Wood Sisters Gatherings…
Dates for the 2014/5 cycle… more details on the upcoming festival are on the welcome page
Sat 1st November 2014: Samhain
Sat 20th December: Winter Solstice
Sat 31st January 2015 : Imbolc
Sat 21st March: Spring Equinox
Sat 2nd May: Beltane
Sat 2oth June: Summer Solstice
Sat 1st August: Lughnasadh
Sat 19th September: Autumn Equinox
Usual timing is 9.30am – 5.30pm
A new sacred cycle begins at Samhain and we started a new series of 8 gatherings on Saturday  1st November 2014 Details and stories for 2014/5 are on the Gatherings page. Each day is a blend of myth and storytelling, collaborative wisdom and sharing, meditation and quiet time for journalling, creativity and sacred time in nature, natural crafts and simple collaborative ceremony. These are safe, warm and friendly groups for women only and held by experienced facilitators. Each day is open to any woman, space permitting, to join at any point during the year. Gathering days have up to 20 participants. For those wanting to experience a full journey through this sacred cycle of the year, we suggest joining our Slow Cook Community. This is a core group of women who commit to journey through the eight gathering days together from Samhain until Autumn Equinox. Additional evening meetings after 5 gatherings are also available as a Slow Cook Course for women wanting the opportunity to meet and share more deeply within the core group of the Slow Cook Community. The Slow Cook Course has up to 12 participants and a facilitator.
COSTS AND CONTRIBUTIONS In 2014/5 costs will be increasing slightly to £55/£45/£35 per day. Joining the Slow Cook Community costs £385 (8 Gatherings for the price of 7) and the Slow Cook Course 2014/5 costs £485 (8 gatherings for the price of 7 (£385) + £100 for a total of 5 additional evening meetings). Slow Cook Community and Course payments can be made in instalments and some concessions and bursaries are available.
Refunds Policy: We are always keen to be flexible and accommodating around money and, at the same time, we need some idea of who has booked and who hasn't, as numbers are limited! When cancellations occur at the last minute,  there often isn't time to contact those on the waiting list and it doesn't give them enough notice to make arrangements for the day. So we suggest, that once you have paid your money to come to a Gathering, if you then cancel,  we will hold the money over to the next Gathering or to the next Wood Sisters event. If this will not work for you for whatever reason, we will give you a full refund, if we can fill your place. If you can find someone to fill your place, this would be very helpful!
BOOKINGS To book places please email us and pay by cheque or direct bank transfer, using the following details: Address for cheque payments: Sue Charman Green Dragon Barn, Hutcherleigh, Totnes, Devon, TQ9 7AD Bank Account details: Wood Sisters Co-operative Bank Sort Code: 08-92-99 A/C No: 65622847 As a reference, please quote your name and the festival you are booking for (e.g. 'Liz… Samhain') We welcome all women and don't wish any to be excluded because of finances, so please don't hesitate to contact us if you need a concession. Each day includes a bring and share feast for lunch, which we ask all Sisters to please contribute to.
THE CIRCLE MEETINGS In between our Wood Sisters Gatherings there is the option to meet weekly to further deepen our soul work and sense of community. The Circle is currently on sabbatical and a new Living Spirit Circle on Tuesday mornings will be starting in September. Click here for more details or see the Welcome page.

On We start with our shared wisdom pot and some wisdom from the Celtic tradition. In 2011/2012 we had a focus on Celtic Tree Lore and for 2012/13 cycle we alternated between exploring Celtic Animal Lore and story wisdom. In 2013/2014 we explored herb and plant lore and for 2014/5 we made an elemental journey starting with earth through sharing, meditation, quiet time for journalling, creativity and being in nature. We finish by sharing our reflections in a final wisdom pot. Each Circle Meeting costs £12 (with some concessions of £10 available). Visitors are always welcome to drop in for an initial meeting on a donation basis, but we ask regular members to please commit for a half term of (usually) six sessions in advance, at a reduced price of £60 (£10 per session) with some concessions available of £48 (£8 per session). More details…
THE RED TENT In August 2011, for our Lughnasadh/Lammas gathering, we explored stories of Biblical women and their roots in the ancient Mesopotamian tradition, inspired by Anita Diamant's bestselling book 'The Red Tent'. We were so inspired in fact that we conceived a project to create our own 'Red Tent' as a travelling home for sacred sanctuary and Women's Mysteries. This project came to fruition around the Festival of First Fruits in August 2012, after nearly fifty Wood Sisters worked to build a beautiful red 'alachig' (a Northern Iranian nomadic tent).

The Wood Sisters Red Tent travelled in the summer of 2012 to the Quest Natural Health Show and The Westcountry Storytelling Festival. In 2013 we took The Red Tent to Exeter Respect Festival with The Exeter Steiner Academy. Wood Sisters also took storytelling and workshops to The Devon County Show and Quest. These outings and a wonderful fund raising evening with the superb Jewish story teller Shonaleigh enabled us to cover all the costs to date of creating The Red Tent.
The Wood Sisters Red Tent is now co-ordinated by a council of women who organised several events in 2014. In May, Shonaleigh returned for a second inspirational evening of stories to raise further funds for maintaining the tent. At Midsummer we were joined by wonderful storyteller, Jane Flood, for another fundraising evening and we also offered our first Red Tent Retreat Day. In July the Wood Sisters Red Tent was the sanctuary space at Quest Festival, including a programme of workshops organised by the Wood Sisters and Living Spirit.
Further adventures unfolded in 2015, including a visit to Carolyn Hillyer's 13 Moons Festival from September 4-7th. Plus our regular fundraising storytelling evening in Totnes. For more details visit our website or Facebook page or subscribe using the small form on the contact page to receive our newsletters.

SLOW COOK COURSE After five gatherings a year, a core group of committed Wood Sisters continues into the evening with a Slow Cook Course meeting. Slow Cook Course members commit to attend all eight seasonal gatherings and stay in touch with each other throughout the year. This is a special opportunity to feel part of a community of women committed to deep soul work. Last year's community 'The Sisters of the Starry Bog' was full and has now concluded. This year's Slow Cook Course is also full. From Nov 2014 The Slow Cook Course costs £485 (8 gatherings for the price of 7 (£385) + £100 for a total of 5 additional evening meetings. Slow Cook Course payments can be made in instalments and some concessions and bursaries are available.
WILD WISDOM SCHOOL The Wild Wisdom School is designed to give a deep immersion into The Western Spiritual Tradition for women and men and is currently being offered through Open Spirit with an emphasis on reclaiming the Divine Feminine (The Restoration of Love) and the Sacred Marriage. For five weekends a year over two years we make a pilgrimage through myth, mystery and history using a holistic method. These days are centred around an unfolding and recurring rhythm of sacred mythic stories, moving from the ancient Mesopotamian myth, through Egyptian, Hebrew and Greek, to Celtic, Arthurian and Biblical stories from the Christian tradition. Each day also includes collaborative wisdom, meditation and space for creativity and sacred time in nature. Each day is supported by story texts, notes with further reading and suggestions for further exploration. There are peer group field trips also and individual mentoring is available to support the group work. Numbers are limited, so please get in touch to register your interest – a new cycle starts with a summer Open Day & an Introductory Retreat Day in Autumn 2016. Click here for more details.

THE WOOD SISTERS WINTER FESTIVAL Every two years around Imbolc (early February) we celebrate all the wonders of spirituality, the creative arts and the natural world in a wonderful festival of storytelling, shadow puppetry, poetry, meditation, ceremony, natural crafts, music, delicious organic food and much more! Visit our Winter Storytelling Festival page for details of our 2012 & 2014 events.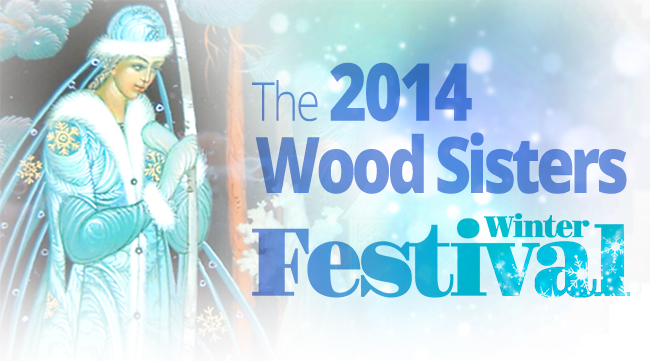 For more information about the 2014 festival and a taste of last times delights please click here…
Wood Sisters will be on sabbatical from autumn 2015 and so there will be no 2016 Winter Festival – sorry!