Red Tent

 It began with a story…….at the Wood Sisters Lughnasadh Gathering in 2011 we explored the stories of the Biblical matriarchs, inspired by Anita Diamant's best selling book, The Red Tent.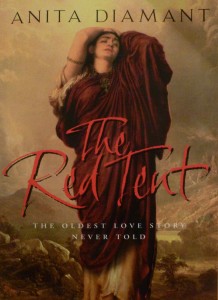 A picture was conjured of the ancient wisdom shared as women gathering together each month in the Red Tent and sitting in their menstrual power for "three quiet days of separation and pause". It was a story of female community, rites of passage, collaborative vision and a reclaiming of ancient values and skills we have lost.
"We want one! We want our own Red Tent!" was the cry from everyone gathered. There was flurry of emails relating to the cost of red canvas, possible shapes of tent, a discovery of the world-wide Red Tent movement and a very supportive correspondence with Anita Diamant. We decided to make our own Red Tent.
Imbolc 2012: Wood Sisters held a Winter Festival of story and spirit and raised £2,000 to make our north Iranian nomadic alachigh – a dome-shaped tent. To make manifest this vision was a feat of community collaboration, shared skills and physical labour: we sought advice and found among ourselves many talents, strengths, capacities, and knowledge:  engineering, mathematics, woodwork, sculpture and spiritual design.
During  six months in 2012, over 13 meetings, all the different elements of the tent were fashioned.  First, cutting the ash poles in Killerton Forest; then to work on shave horses and with power tools, before building our former and our steam box and bending the 35 poles over the former for five weeks. As they bent, we created the roof wheel including burning the angled holes for the poles with a pilot brand.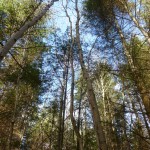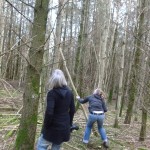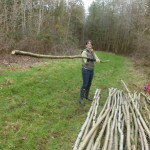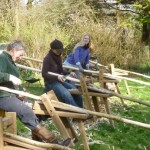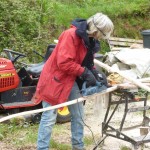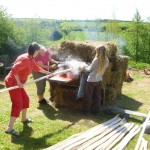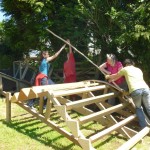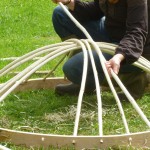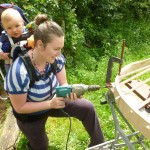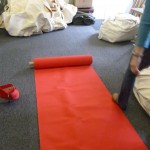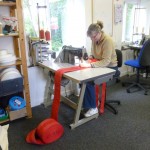 Over 50 women gave their time and, together with Dee and Kay who sewed the red canvas, we raised the tent for the first time at Midsummer 2012. It was an extraordinary moment to see our touring sanctuary rise and  put on her red skirts for the first time.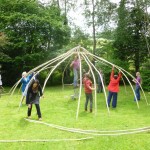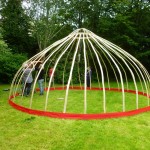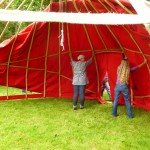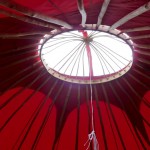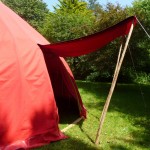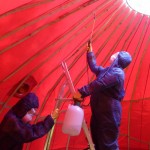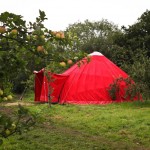 Finally, came the fire-proofing before the tent was ready to go on tour to the Quest Festival in Newton Abbot in July 2012 with a programme of myths, meditation, crafts, music and ceremony and at the end of August 2012 to Embercombe near Exeter, for the Westcountry Storytelling Festival.
The Tent is now held by a Council of women and is used for seasonal gatherings, rites of passage, retreat, visioning, oracle, storytelling, ceremony, music, crafts and mystery school courses. There is huge gratitude for the matriarchs of this Red Tent who have supported its journey, fund-raised for it and brewed the its magic with story, music, food, fire, hard work, love, soul and wisdom.
The Wood Sisters Red Tent is mainly used by women and is often open to men, acknowledging that the Red Tent touches a deep desire in a wide range of people. A desire to explore the divine feminine as an essential re-balancing within our modern-day culture, allowing us to re-imagine our relationship to our mother, the earth, and to each other.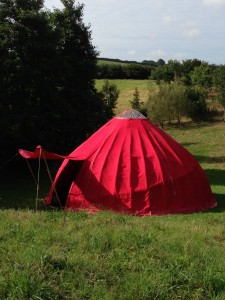 For more information about the Wood Sisters, their Red Tent and the things that happen in it, visit: www.thewoodsistersredtent.moonfruit.com
Mooncircle
We ran a monthly moon circle, in honour of our women's cycles, to meet, meditate, share our experiences of all the threshold moments of our lives, support each other, vision and celebrate.
This circle was open to all women of all ages. Facilitated by Sue from the Wood Sisters, it was a cauldron for collaborative wisdom, a safe womb space for women, an honouring of our past, present and future as women and the blood mysteries. There was a theme each month, such as birth, menarche, menstruation, sex, motherhood, miscarriage, the moon and menopause as real and archetypal experiences in our lives and we chose as a group for how long we explored each theme.
The Mooncircle is not currently running.
This was a new initiative for our Red Tent and we met monthly on the Wednesday nearest to the dark of the moon to explore moon mysteries, our womanly cycles and threshold moments in our lives through sharing circles, meditation, simple, supportive massage, creativity and sacred ceremony.
We have created a pop-up 14′ parachute moon tent for this indoor red tent work and our first dark of the moon gathering on 21st January was a wonderful, intimate, rich, deep, heartfelt space – thank you to everyone who came, especially Jo for the heavenly massage oils.
If this, or a similar initiative is renewed, we will publish links on this page.
More Red Tent Fundraiser storytelling evenings are coming in 2016 in Totnes, with women storytellers including Katrice Horsley, Shonaleigh, The Bardic Babes and others…
Thursday 25 Feb: Katrice Horsley's 'Clockwork'

May: Shonaleigh returns!  
Support these fund-raisers for the Red Tent (we are currently working on furnishing the Tent with chairs, cushions, sheepskin, matting and rugs) by letting all your friends know! You can share this newsletter or send them a link to our Facebook page or website. 

Subscribe to the Wood Sisters Red Tent mailing list…