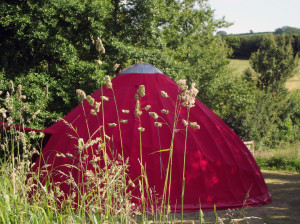 It was a pleasure to be back in our Red Tent again for our Wood Sisters Midsummer Gathering this year and once again the weather was mostly kind and it was sunny and warm in our red womb sanctuary space. The circle was full and it was lovely to welcome both new and familiar faces for this day celebrating the heights of summer.
We opened with some quiet time and shared seasonal wisdom as usual, including imagining wild fourth century french pagans rolling flaming wheels down their summer meadows and into the river! Final records for this custom apparently come from Buckfastleigh and Widecombe in Devon no less. With the summer solstice being a few days where the sun actually seems to pause on its fiery journey around the sacred wheel of the year, we were both acknowledging the intensity of this season and emphasising that theme of pausing, for much needed rest and for reflection, at this turning point of the year.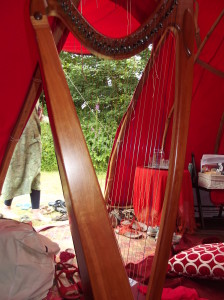 Just as Christmas follows three days after the winter solstice, so the Feast of St.John follows the summer solstice and our opening wisdom included remembering these festivities, including the original bonfires (bone or boon-fires) and some of the plants associated with this time of the year, including St. John's Wort (hypericum perforatum) which latterly has been medically recognised as a powerful anti-depressant – bringing the light of midsummer to inner darkness.
The morning then continued with Sue's rousing telling of the tale of the indomitable Tatterhood, a dark twin born riding a goat and waving a wooden spoon. She feels to me (Sam) to be a great champion of celebrating one's own true nature in a way that is relational without being compromised. She is brave, authentic and loving – willing to meet the wild things from the deep forest, willing to save her sister, willing to sail her own boat and go on an adventure, willing to stand her ground and let love come towards her and then willing to embrace it. Her tale stirred each of us in different ways and it was good to hear Sue's feminist re-working of the tale, that doesn't have her turning into a fairytale princess in the end but rather recognising the power and beauty that had always been present in a goat riding, spoon waving woman wearing a tattered hood.
Lunch seemed to be an even more resplendent feast than usual, with all manner of summer fruits and garden veggies to enjoy. In place of our usual after lunch craft, we each created scrolls for letting go of the last half of the year and setting intentions for the half to come and, after some embodied meditation, we took these on our own meditative midsummer walks, until we were drawn back to the fireside by the drum. With sacred chants around our own midsummer bonfire, we placed our scrolls and prayers into the flames, before jumping over the hearth to whoops and cheers!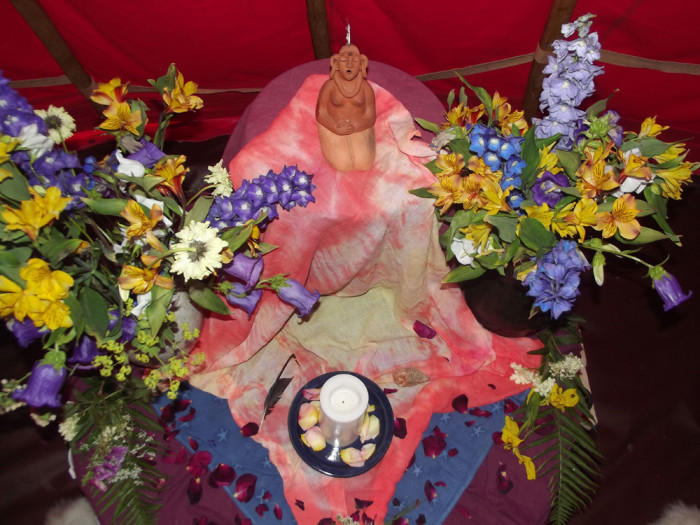 With many thanks as ever to all the wild and wonderful Wood Sisters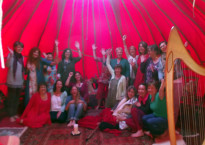 and especially to our musicians, Laura and Abigail, and remaining members of the cauldron crew, Jo and Beth (who also took these lovely photos.)