A circle gathered in the Red Tent of dear friends who had shared many inner harvests and sacrifices of the heart together. And in the tent with us were other dear women, not physically present, but part of the gathering.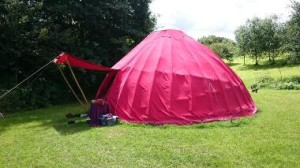 We remembered Tailitiu, mother of Lugh the Celtic sun god, for whom he threw a great feast at Lughnasadh to celebrate the abundance of her earth. We remembered all the many Lammas Fairs that still take place all over the UK and include strange and wonderful customs. We remembered the sun sign of Leo and the opposition of Jupiter and Saturn with Venus in retrograde which invite us not just to celebrate but also to assess our harvest this year and be honest about our relationships.
We remembered the Medusa: Gorgon and ancient north African and Anatolian Sun Goddess, encompassing all the deep mysteries of feminine sexuality, radiance and destructive power. We remembered the harvest of our lives and the gesture of those dying who glean the last seeds of life from the field.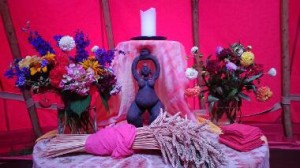 After a rich sharing around the wisdom pot, and a reviving cup of tea, Lisa took us on a journey with the two Greek Goddesses: Hera and Artemis – asking us to consider where these two archetypes figured in our inner worlds and which other archetypes sat at the committee table of our inner worlds offering different possibilities.
Hera, guardian of the institution of marriage, was severe in dealing out justice to those who crossed her boundaries and Artemis, moon archer, was tricked into shooting the one man she had begun to love. Lisa's wonderfully varied and spirited telling, linked these tales to older myths and inspired a rich sharing around the circle. There was examination of the word Wife and the role it represents; we spoke of our mothers, our relationships, sacred marriage, rape, choice, feeding others, jealousy, love, betrayal, being single and the paths of our lives.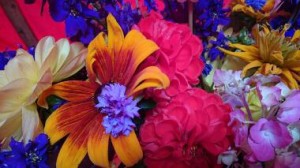 We were over half an hour late for lunch, so much did we have to speak of on this topic, (although the farmers wanting us to move cars so that the combine harvester could get through, also took a moment of our harvest-time Gathering!).
After a splendid feast at lunch, we sat in the Red Tent and bound sage and rosemary smudge sticks to dry and hang for the year, ready to cleanse and prepare ourselves and our spaces for sacred celebration. In the kitchen, a harvest loaf was rolled and sculpted: heavy with many ears of corn and tiny mice scurrying up stalks bound into a sheaf. Baked and golden, it came out of the oven after our meditation, ready for our loaf-mass.
The sun meditation offered a chance to soak up and lock-in some of the golden summer light energy to burn in our inner spaces through the long Autumn and Winter months, until the return of the light in the Spring.  A firebird appeared in one meditation and inspired our chant at the end of the day.
We passed sloe gin and our golden harvest loaf around the circle in a collaborative communion which, though silent apart from Abigail's beautiful harp playing, allowed us to smile and to give and receive blessing in our own authentic way.
We closed with a final wisdom pot of sharing circle – including poems, blessings, intentions and goodbyes and a song composed specially by Laura who had woven her drum and flute through the day's celebrations so magically.
The Slow Cook course wended their way for an evening of collaborative wisdom; the tent was tidied and packed up, with her black cover on. This was the last time we will gather under her red skirts this year, and possibly next, and probably ever in Sue's garden, so there was some sadness mixed in with the fullness as we said our farewells.