Fourteen of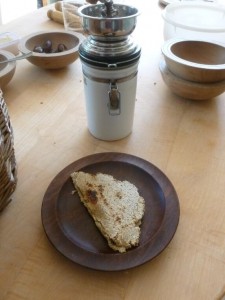 us gathered to celebrate Lughnasadh – the feast of Lugh in honour of his foster mother Tailitiu  – in the Red Tent. A feast of two weeks beginning on 2nd August and allowing Holy-day after the work of the harvest with horse fairs, feasting, merriment and travel. The ancient horse goddesses Rhiannon and Epona were evoked.
We spoke of the first harvest – the grain harvest and how this completes a cycle in being a seed to sow as well as food to eat.  Many women around the circle spoke of wanting to let go of the exhausting process of doubting themselves and our trance telling of the Celtic tale of Ceridwen and Taliesin, a goddess initiation story from the Welsh Mabinogion,  looked at just that letting go and trust in the deep mother love of the goddess which allows full transformation to take place.
We shared  a feast of harvest loaf, salad, hummus, quiche, fresh vegetables from the garden, apple pudding, apple tart, figs, melon, fruit, cakes, home -pressed apple juice and more before turning our hands to the crafts of corn maidens, four and five straw favours and grinding barley to make triangular goddess cakes with dates and honey.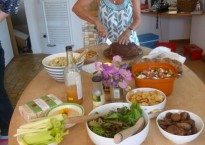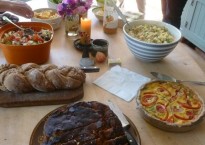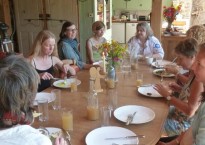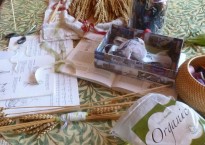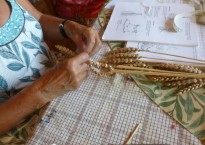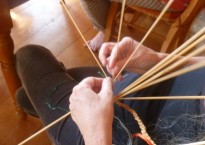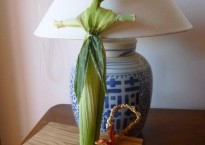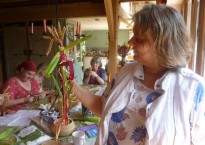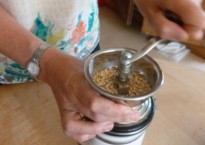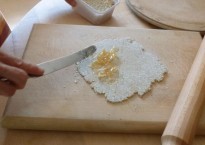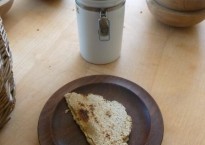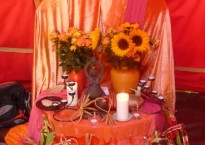 Our final ceremony followed a meditation to the sacred grove of our forest-dwelling ancestors. It was a day of gratitude for all that we have; for anger and tears at all that we would rather not have, including the terrible wars in Gaza and Syria, and deep sisterhood as we resonated with the many nuances of sharing around the circle: wounds, wishes, overload, uncertainty; magic, death and dying, children and all the other woven threads of our lives.
At the end, we didn't want to leave the safe and stunning space of the tent and lingered in the doorway speaking of the next times we would meet and holding each other in our thoughts until then.